Accounting, Bookkeeping | December 13th, 2018


---
If you're a small business owner you likely have someone on staff (or even yourself) managing your company's financial records and budget. These responsibilities are generally assigned to your bookkeeper or accountant. While these are extremely important roles to fill, few business owners actually understand the difference between bookkeeping and accounting. Though they both are involved in business finances, there are a few distinctions that small business owners should be aware of as they're hiring for these positions, or strategizing their financial management process on their own.
We're clearing up the important differences in the bookkeeping vs accounting dilemma to help small businesses, and their owners identify what kind of financial services they need. We'll also discuss what business owners can expect when they hire for bookkeeping and accounting services.
Looking for specific information on this topic? Use the links below to navigate to each section.
Understanding Bookkeeping and Accounting
The general overview of the two goes as follows: Bookkeepers tend to work in a more administrative sense— recording and filing financial transactions. Accountants then work subjectively—  using the recorded information and financial reports to help the business owner make strategic decisions to better manage finances, or identify areas of concern or growth. Maintaining proper financial records and monitoring the business' standing helps business owners stay in compliance, and also promotes business growth. It's important to monitor the ebbs and flows of any business' expenses and income— but the importance of this role takes on a whole new meaning when we're talking about small businesses. When you're working with an already limited budget and narrow profit margins, staying on top of your expenses is one of the most important responsibilities of owning a business. Missing even a minor red flag could in fact, put your business in the red if you're not careful. That's where bookkeepers and accountants come in to make small business operations run smoother, and help owners gain peace of mind regarding their business finances.
Now that you have a basic understanding of bookkeeping and accounting, let's dive into the functions these roles serve; as well as examine the day-to-day responsibilities of each to give you an even more in-depth understanding.
Functions of a Bookkeeper
Bookkeepers help small business owners keep their financial paperwork and account history in tact. In general, a bookkeeper's primary goal is to maintain consistent records to make business management and accounting easier. Like any position, the responsibilities of a bookkeeper can vary depending on the business. Some bookkeepers will also handle accounting tasks, and others will also deal with employee services, like managing payroll for example. We'll go into the job specifics a little later— but first let's take a look at the functions of a business accountant.
Functions of an Accountant
Using the documentation and records collected from the bookkeeper, a small business accountant is able to aggregate the information to make financial evaluations and advise the business owner. Accountants may be responsible for creating yearly budgets, analyzing business operation costs, and completing tax paperwork. Typically accountants do not handle the actual bookkeeping tasks themselves, but rather serve as an analytical resource for business owners.
A Brief History of Bookkeeping and Accounting
The history of bookkeeping and accounting is often associated with Italian mathematician Luca Pacioli, who discussed his method of double-entry bookkeeping in his "Summa de Arithmetica, Geometria, Proportionalita." His method tracked both income from a sale of an item, as well as the cost of resources lost to account for the deduction in assets. This strategy helped merchants keep a more thorough record of their income and expenses— not to mention gain a better understanding of the business' financial status. This system also allowed merchants to evaluate which of their products were selling well and which ones weren't— helping them optimize their inventory to make better sales, and minimize the cost of resources and operation.
Thanks to Pacioli's double-entry method, today's small business owners can get a comprehensive look at where their business stands, with the help of a bookkeeping and accounting team. As most things these days, bookkeeping has transitioned from the paper scrolls and feather pens from Pacioli's days to managing business finances online. This allows business owners and their finance teams to update and access information remotely, and centralize their financial data in one repository, rather than tracking countless accounting journals.
With the introduction of financial management software for businesses, the lines have blurred between bookkeepers and accountants. Many software services combine the two to create a streamlined operation that can make financial recommendations based on recordings. This can be helpful for minor operations, but if you're serious about maintaining your business' financial health, you may consider hiring for bookkeeping and accounting services. This can help to ensure your team of financial experts factor in all aspects of your operation before making any major recommendations.

Bookkeeper and Accountant Roles
Now that you know the functions of bookkeeping and accounting as well as a little bit about their history, let's discuss what the day-to-day responsibilities of a bookkeeper and accountant look like.
Bookkeeper Role
Bookkeeping roles often require entry-level experience in office administration, and/or an associate's degree. Since they are performing more administrative tasks than suggesting financial advice, bookkeepers tend to have less experience and typically charge less than an accountant would. While they have different job descriptions, bookkeepers and accountants tend to work together closely— typically with the accountant overseeing the bookkeeping role. Let's take a look at some examples of a bookkeeper's daily tasks.
Recording and organizing financial transactions
Maintaining proper documentation for accounts receivable and payable
Payroll management
Types of Bookkeeping Accounts
Depending on the size of the business, your bookkeeper may have a lot of accounts to handle, each dealing with varying types of transactions. Here are a few of the most common account types that bookkeepers help manage: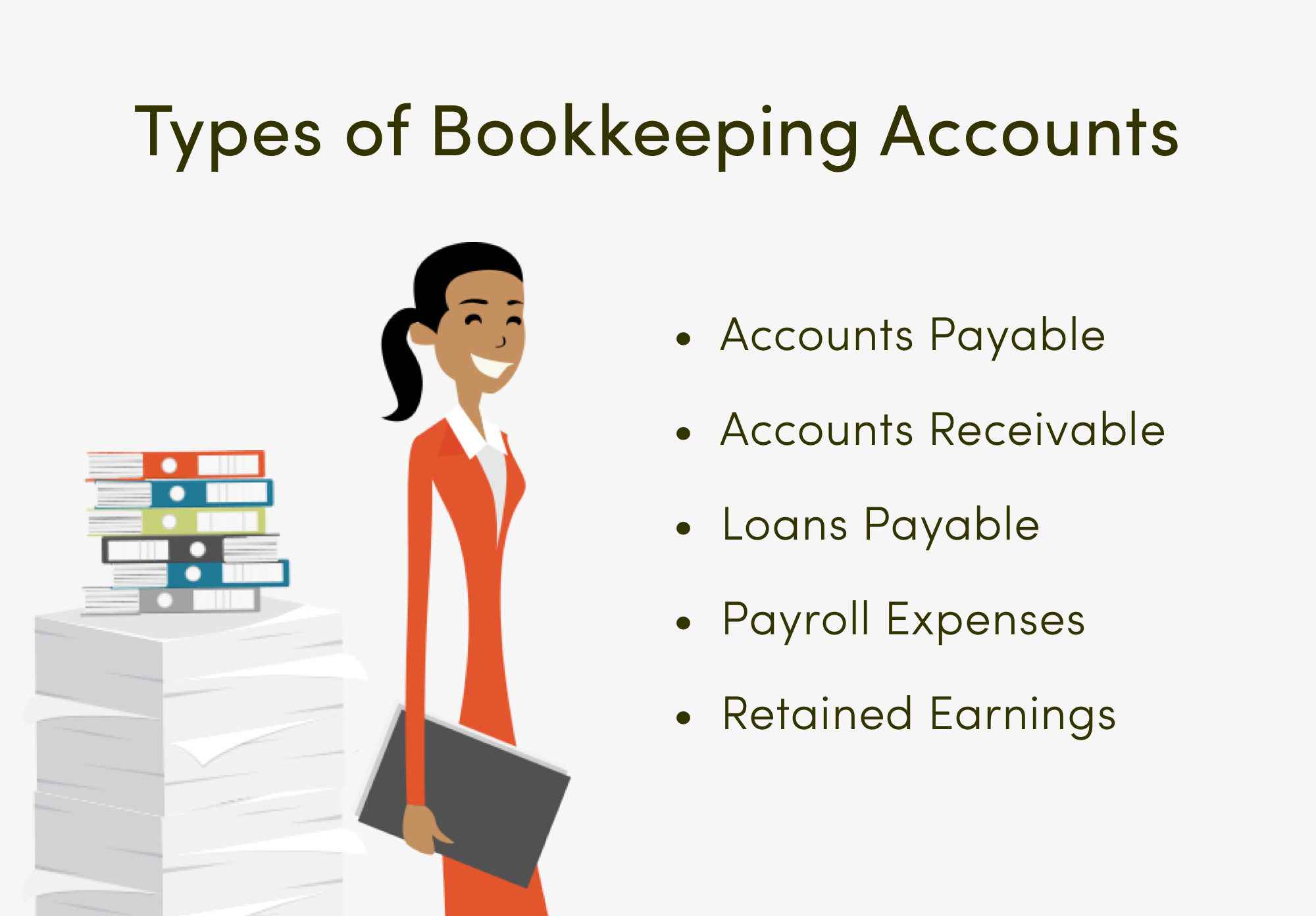 Accounts Payable: your business' bills including business space, utilities, software services, and other supplies
Accounts Receivable: your business' income from customers using your product or services
Loans Payable: your loan accounts if your business has borrowed any money
Payroll Expenses: the costs associated with your employees
Retained Earnings: the amount of your business' profits that have been reinvested into the business, rather than paid out to owners
These are just a few examples of accounts that bookkeepers may be responsible for maintaining for your small business. This responsibility alone can become a huge burden for business owners to balance between managing employees, ensuring customer satisfaction, and promoting business growth. Many business owners choose to outsource both bookkeeping and accounting roles to focus their efforts on growing their business.
Accountant Role
In general, accountants must have a bachelor's degree in accounting or finance to qualify for an accounting role. Accountants may also get professional certifications like a Certified Public Accountant (CPA) for additional credibility and experience. An accountant works closely with the business owner or decision-maker to adjust budgets, file taxes, and strategize for financial success. Below are some of the most common job responsibilities for accountants.
Types of Accountants
There are many professions within the accounting field including: certified public accountants (CPAs), forensics accountants, cost accountants, and auditors. Each has a different function and specializes in a different field. For your small business you will likely need a business accountant or a CPA. While business accountants generally handle the aforementioned responsibilities, CPAs hold an additional level of credibility (and responsibility) as they are licensed by the state to prepare tax statements and represent taxpayers before the IRS for audits and under other circumstances.
So how can an accountant help my business with tax prep? Taxes can be complicated territory for anyone— and when you get multiple accounts and business expenses involved, it can easily become a disaster. Having a qualified accountant on hand not only makes tax accounting easier, but it could also mean you get more out of your tax return than if you filed on your own.
Major Differences Between Bookkeeping and Accounting
Besides their differing job descriptions and daily responsibilities, bookkeepers and accountants have a few additional distinctions that are important to note. Let's discuss the differences between the two regarding qualifications and salaries.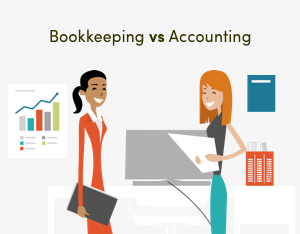 Education and Certifications
Bookkeepers generally hold an associate's degree, or even a bachelor's in business. While this position may require some prior experience in office management and some knowledge of financial processes, there are not as many certifications available (or necessary) for bookkeeping.
Qualified accountants typically hold a bachelor's degree in accounting or finance, as well as some prior work experience in finance as they will be delivering financial advice. As mention, there are some additional certifications accountants can obtain if they wish to advance their expertise. Below are some of the most common certifications for accountants.
Certified Public Accountant (CPA)
Certified Financial Analyst (CFA)
Certified Management Accountant (CMA)
Certified Internal Auditor (CIA)
Salaries
Depending on your state, your business' needs, and the candidate's qualifications, salaries may vary. According to PayScale, the average salary for a bookkeeper is $41, 244 while for accountants the average is $50, 420. Because of their additional education and certifications, accountants typically make a higher salary than bookkeepers.
Many small businesses don't have the employment capacity to hire internally, so many opt for external bookkeeping and accounting services.
Bookkeeping and Accounting Similarities
Bookkeepers and accountants are both working toward the same goal: help business owners be more financially responsible and remain in compliance with financial regulations. While their responsibilities may be different, they rely on each other to work effectively. Note: Accountants can also fill the role of bookkeepers— though they typically don't. Conversely, bookkeepers cannot be considered accountants, unless they have completed their degree in Accounting or Finance, and met other applicable certifications.

What's Best for my Small Business?
Running a small business is a complex operation. Between managing employees, maintaining customer satisfaction, and balancing your personal life, it's easy to let things slip through the cracks. When it comes to managing finances for your small business, it's best to have a dual-layer system— and bookkeeping and accounting go hand-in-hand. In order to manage your finances comprehensively, you'll need to consider the value of both positions.
Without proper documentation and financial management procedures, accountants can't do their job effectively. Staffing for both positions, taking on some of the responsibilities on your own, or finding a professional finance management service is best if you want to keep your small business prosperous.
Hiring for Bookkeeping and Accounting Services
If you have a knack for organization and finance management, you may be able to handle your bookkeeping and accounting on your own. However, if you're like most small business owners, you've likely got enough on your plate. It's important to keep these areas of your business in pristine order. If you're not prepared to take on these challenges with expert-level financial strategy and accuracy, you may want to consider hiring a professional.
Business owners can hire professional bookkeepers and accountants as part of their payroll, or hire an external team to fill these roles. Hiring an in-house professional can be convenient for business owners who want to have someone in office. However, this route can end up being pretty costly by the time you add in the cost of including this person on your company's payroll— not to mention additional hiring and onboarding costs.
FinancePal offers accounting for small businesses so that business owners can get back to handling the other important facets of their business—  like growing profits and keeping customers happy. With integrated management technology, small business owners can check-in on their accounts receivable and payables, as well as access project management and Point of Sale features. Plus, you'll have access to a dedicated team of bookkeeping and accounting professionals to help you optimize your financial strategy and keep track of your business transactions. There's not much room for error when it comes to managing your small business' money. Let our FinancePal professionals handle it, and refocus your efforts on accelerating your company's success.