US Based

Experts Available

Dedicated Team
Supporting Your Financial Success
At FinancePal, you'll get more than basic accounting and bookkeeping services. We provide a dedicated team that knows the ins and outs of your business's finances, then pair their expertise with innovative tools. Our comprehensive financial services model allows you to take control of your business's financial health, without all the stress and frustration. With FinancePal, you get expertise, tech, and custom solutions that support your business's financial success.
We Handle Your:
Accounting
Bookkeeping
Tax Preparation
Payroll
Primary Accountant
"Your business finances are now in order"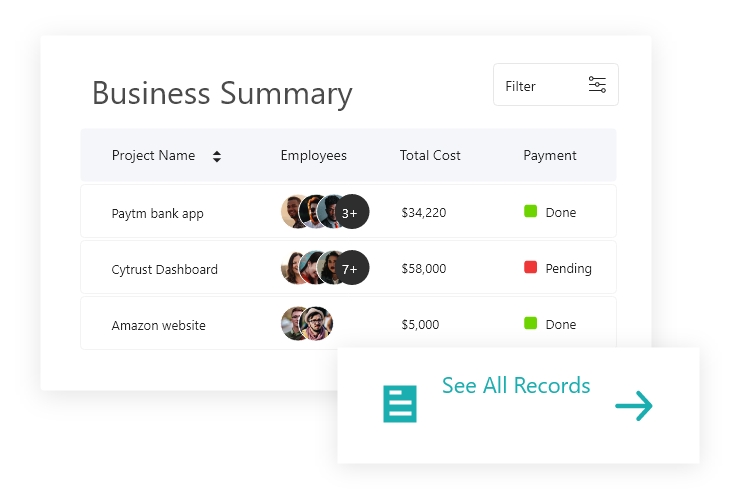 We're Here to Help You Succeed
Our goal is to provide you with best-in-class service and the resources you need to ensure that your business thrives. Not only do we manage your day-to-day finances, but we also make your long-term success our top priority.
Secure Data
While we make your business's financial data organized and accessible to you and your team, you can rest assured it's protected against data breaches.
Accuracy
Recording, reporting, and worrying about mistakes can be overwhelming. When we take over, you can feel confident in the accuracy of your financial records.
Useful Insights
Knowledge is power when it comes to running your business, which is why we provide easy-to-read financial statements and insights on a regular basis.
Founded in Chicago, the U.S.-based FinancePal team is well-versed in all areas of business finance and available when you need, however you need to reach us.
Services We Offer
We're the full financial package. Our comprehensive services include:
Catch-Up Bookkeeping
Bookkeeping
Tax Preparation
Payroll
Sales and Use Tax
and more!
Our Story
FinancePal is the brainchild of Jacob Dayan and Nick Charveron, co-founders of Community Tax. Founded in 2010, Community Tax blossomed into a nationwide leader in tax debt services for both individuals and small businesses. As the company grew, the duo noticed that providing their small business clients with IRS resolutions relieved the symptom but did not address the cause. Dayan and Charveron quickly noticed that many of Community Tax's small business clients needed help with everyday accounting and bookkeeping. For many small business owners, the accounting processes can be a nuisance at best and uncharted territory at worst. Most business owners started their companies because they were experts in providing a good or a service—not at balancing a book. Nevertheless, good bookkeeping is necessary to manage any company's financial health, guiding decisions for growth initiatives and ultimately ensuring your business is in good standing with its tax obligations throughout the year.
Timeline
After seeing so many small business owners struggle with their bookkeeping, Dayan and Charveron created FinancePal in 2015 in order to provide small business owners with a streamlined service solution to manage everyday tax and financial obligations. In 2020, Andrew Jordan, CPA merged his practice with FinancePal and joined FinancePal as their managing partner. FinancePal's client base has expanded it's client base to work with small businesses in various industries across the country. Those business owners can now devote their full attention to their customers without worrying about their books — because the experts at FinancePal have it covered. We'll keep your records straight, and give you the tools to effectively run your business!
2015
Early Years We focused on fine-tuning our services and building a team of financial experts
Raising Industry Standards Over the years, we have combined top tier technology and developed processes to offer best in class service
US Based Staff We marry best in class technology with US based staff
Nationwide Dozens of industries, services and clients nationwide
2021
Leading the Way with a Dedicated Team
FinancePal was founded by Jacob Dayan and Nick Charveron, who both have over a decade of finance experience. Our team is comprised of field experts including accounting, bookkeeping, and tax professionals, which allows us to adeptly assist you with all aspects of your financial health. When you work with FinancePal, you will be assigned a dedicated team of experts who are knowledgeable about every last detail of your business's finances.
Jacob Dayan, Esq.

CEO & Founder

Nick Charveron, EA

President & Co-Founder

Andrew Jordan, CPA

Chief Operating Officer

Nick Kind

Manager, Accounting Services

Christopher Doyle

Director of Client Enrollment

Emma Ball

Manager, Onboarding & Administration

Aaron Beik

Manager, Bookkeeping Operations
Why 1000s of Small Business Owners Choose FinancePal
Streamlined Financial Management
US based team (we don't outsource)
A single team that's familiar with your business
Comprehensive services—no need for multiple providers
Recording, analysis, and reporting on your behalf
Affordable services based on your needs
Customized service packages based on your industry
Peace of mind that you're in compliance at all times
Reliable, Tech-Based Services
Advanced applications from industry-leading providers
Accessible platforms for on-the-go updates
Insights provided in an easy-to-understand format
Automated workflows that save you time
Complete and accurate reports provided weekly and monthly
Air-tight systems that protect your data
Peace of mind that you always know where your finances stand
Don't just take our word for it.
Financial help customized for small businesses.
Financepal is your one-stop-shop for all your tax and accounting needs.
By entering your phone number and clicking the "Get Started" button, you provide your electronic signature and consent for FinancePal to contact you with information and offers at the phone number provided using an automated system, pre-recorded messages, and/or text messages. Consent is not required as a condition of purchase. Message and data rates may apply.